Description
Buy Zopiclone 10 mg Tablet USA, UK
Zopiclone 10 mg (Zopisign) tablet is used for the treatment of insomnia. It is recommended for short-term treatment where you find difficulty in staying or falling asleep at night. It works by reducing sleep onset time and also reduces recurrent awakening at night. Drug use helps in sleep regularization and so you get sound sleep. This drug is prescribed for faster and longer sleep.
It is a high-habit-forming drug, so it is never recommended for long-term usage.
Mode of action of Zopiclone 10 mg-
The zopiclone 10 mg tablet works by slowing down the brain activity and relaxing it. It is a nonbenzodiazepine hypnotic drug. So, with its anxiolytic and hypnotic properties, it helps in calming the brain and allows sleep. You feel more energetic and relaxed. It regulates the GABA receptor and so relaxes the brain and nerves. It starts working shortly after you take it.
Uses of Zopiclone 10 mg –
Zopiclone 10 mg is best to take on an empty stomach and preferred when going to bed. High-fat food reduces the absorption of the drug and so impacts its effectiveness. But, make sure to take it at the same time of the day, every day to make sure it's a consistent level in the blood. Do not chew, break or crush the tablet. Take the tablet as a whole and swallow it down. You must go as per the prescribed dose and duration to avoid any habit-forming chances of the drug.
Do not stop the medication abruptly. This may result in worsening symptoms. You may have to face anxiety, mood changes, and restlessness when the medication is stopped all of a sudden.
Side effects of Zopiclone 10 mg –
There are no such side effects that trouble the patient. But, sometimes some side effects may be experienced as mild bitterness in the taste or metallic taste, drowsiness, sleepiness, and dry mouth. These symptoms get resolved readily when the body adapts to the medicine. But, if you find any of these bothering or persistent, discuss them with your doctor.
If there are any changes in mood or mental health observed, or any other serious symptoms such as hallucinations, depression, suicidal thoughts, make sure to inform your doctor and take medical help.
Precautions for Zopiclone 10 mg –
As the drug causes sleepiness and dizziness, so avoid driving or any job that requires focus. Do not consume alcohol while you are on Zopiclone 10mg medication. If you are taking other drugs, then discuss that with your doctor, as some medicine combination does not go well. Also, if you are allergic to zopiclone or have any other allergies, talk to your doctor before starting the drug administration.
If you are facing substance use disorder or have struggled with it in your past, make sure to inform your doctor. This is a habit-forming drug and it may worsen your situation.
Any health ailment must also be discussed before drug usage. The ailments may include liver issues, heart ailment, kidney issues, blood pressure, and lung ailment. For pregnant ladies or those who are planning to get pregnant, or breastfeeding mothers, should not take this medicine and discuss it further with your doctor.
Overdose of Zopiclone 10 mg –
In case you accidentally end up with an overdose of Zopiclone 10 mg, or any serious health issues such as passing out or breathing irregularities, consult your doctor immediately.
Missed dose of Zopiclone 10 mg –
If you miss your prescribed dose on any day, make sure to take it as soon as possible. In case it is time for the next dose, do not double the dose and go back to your regular drug schedule and maintain it from there in routine.
Storage of Zopiclone (Zopisign) 10 mg –
Store Zopiclone 10 mg at room temperature and avoid exposing it to direct sunlight and moisture. Keep it away from children and pets.
Summary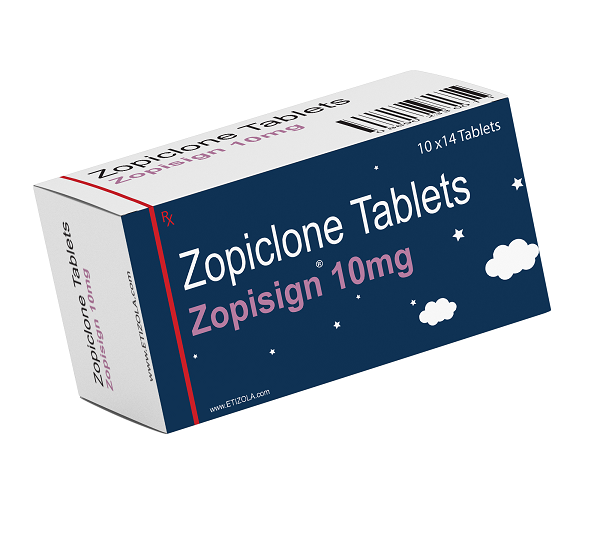 Author Rating





Product Name
Price
Product Availability