Description
Buy Zopiclone 7.5 mg Tablets in USA, UK
Zopiclone 7.5 mg tablet is to treat short-term insomnia. Where patients feel difficulty in falling asleep as well as struggles with frequent awakening at night, early awakening, chronic or situational insomnia, and insomnia secondary leading to psychiatric disturbances. The drug has properties that cause habit-forming, and so its long-term use is not recommended.
Mode of action of Zopiclone 7.5 mg–
The medicine falls in the nonbenzodiazepine hypnotic drug class of drugs. The brain and nerves soothe out due to their hypnotic and anxiolytic properties. The chemical messenger GABA gets regulated in the brain, and so the brain's activity slows down, and you fall asleep with ease.
Uses of Zopiclone 7.5 mg–
The best time to take medicine is before going to bed, and it works effectively on an empty stomach. The fat content of food hinders the absorption of the Zopiclone 7.5mg, and so it does not work as effectively as required. The dose and duration depend on the patient's condition, drug response, age, and other health factors as reactivity with other drugs and any previous ailments or other ongoing treatment.
You need to take Zopiclone 7.5 mg orally and swallow as a whole without breaking, crushing, or chewing. One has to stick with the prescribed dosage and not end the intake all of a sudden. It may lead to withdrawal symptoms such as anxiety, restlessness, and mood changes. It is best recommended to take the drug at the same time every day. It maintains a consistent level of drug in the blood.
Side Effects of Zopiclone 7.5 mg-
Zopiclone 7.5 mg does not show major side effects in general. But, in case any such appears as bitterness in taste, sleepiness, drowsiness, and dry mouth, these go away on their own. It takes the body to adapt to the medicine and you feel okay, but if you feel any discomfort that persists for longer or bothers you indifferently, discuss with your doctor.
In rare cases, patients feel serious side-effects such as breathing issues, suicidal thoughts, hallucinations, depression, or passing out, contact your doctor immediately.
Precautions of Zopiclone 7.5 mg–
Zopiclone 7.5 mg is a high habit-forming drug and so you must keep yourself alert with its effects and monitor your response to the drug. In the past, you have suffered from substance use disorder or currently, you are going through any such condition, be honest with your doctor. Any irresponsible behavior can lead you to a worsened health condition.
If you are allergic to the drug or have other allergies let your doctor assess that before the drug prescription.
If you have any health ailment such as liver disease, heart disease, lung disorder, blood pressure, or you are pregnant, planning to pregnant or breastfeeding, inform your doctor.
Also, if you are going through other treatments and taking medicines, inform your doctor. As some medicine combinations do not go well together.
Don't drive when you are on zopiclone 7.5 mg drug treatment, as it may cause nausea and so any job that needs focus should be avoided. Avoid alcohol consumption also, while you are taking this drug.
Overdose of Zopiclone 7.5 mg-
Don't overdose or if mistakenly take a double dose and feel any irregular health changes, go see your doctor and take medical advice.
Missed dose of Zopiclone 7.5 mg-
If you forgot to take Zopiclone 7.5 mg prescribed dose at any time, take it as soon as you realize. In case it is time for the next dose, skip the missed dose and continue with further regular dose timings.
Storage of Zopiclone 7.5 mg –
Store at room temperature and in dry condition. Keep away from sunlight and moisture. Also, make sure that children and pets do not get in contact with Zopiclone 7.5 mg medicine.
Summary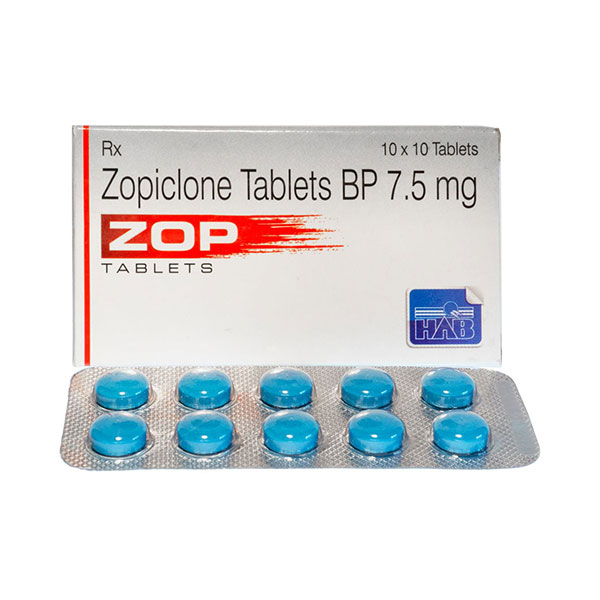 Author Rating





Product Name
Price
Product Availability